About Trillium Chiropractic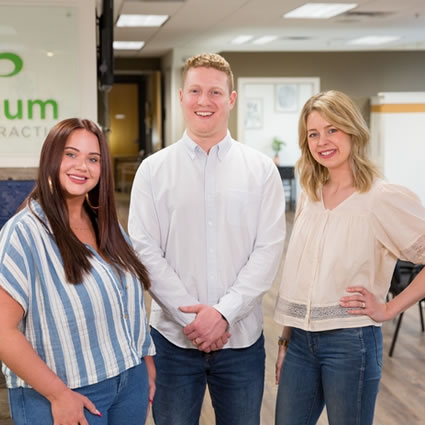 In practice since 2019, Dr. Katelyn Hummel became the new owner of Trillium Chiropractic. She is joined in practice by Dr. Kyle Hove. Our doctors are friendly and caring and take the time to get to know patients and what their health goals are. They then will craft customized care plans and provide tools and information you need to achieve and maintain optimal health.
Relax in Our Welcoming Environment
One of the first things you'll notice about our office is that our space is inviting, not cold or clinical. Here, you will be warmly welcomed. Our staff will greet you by name and help you feel at home. Feel free to voice any concerns, ask questions or just chat with us. We care about our community's health and well-being.
New Patient VIP Pass
Our VIP Pass
includes the initial consultation and examination, X-rays, if indicated, review of findings and your first adjustment for only $30!
Our Vision
Everything in the body is connected, so our approach isn't focused on treating individual symptoms. We discover the root cause of your problem and find solutions to relieve it. Regular chiropractic wellness care is key to attaining and keeping a higher level of health.
Our chiropractors work to keep your spine in the best condition possible. Problems in the spine affect the nervous system, leading to loss of function in the body. Using Diversified as our primary adjusting technique, other techniques may be utilized to provide our patients with treatment that best meets their needs.
MEET THE TEAM
Can You Help Me?
Chiropractic adjustments have proven safe and effective for everyone, from newborns to Grandpa! Above all, we care about you and your overall health. Chiropractic can impact you in ways you would never imagine.
One woman came to our office complaining of years of irregular menstrual cycles. Within four visits, she started menstruating. Many patients come in with headaches and migraines. Once they're put on a corrective plan, results can be seen in as few as three visits. Our patients often come to us with one problem and experience improvement with issues they didn't even know they had.
Reaching Out to Our Community
While many know us for our charitable contributions, our goal is for everyone to experience chiropractic and what it can do for them. We're consistent about what we say and want to deliver to our families and friends. Contact us today for an appointment and see for yourself!

About Trillium Chiropractic | (763) 420-2226